How long is now
CAM MUSEUM is home to TACHELES BERLIN
curated by Antonio Manfredi, Linda Cerna, Barbara Fragogna
artists: Petrov Ahner, Chuuu, Vj Cyper, Barbara Fragogna, Alesh Oner, Orvar, Konik Polny, Martin Reiter, Alexander Rodin, Kurihara Takuya, Miriam Wuttke, Zmitser Yurkevich (Mitrich)
Opening: on Friday the 26th of October 2012 at 7 pm
Exhibition, performance, video and live music
Art performance by Miriam Wuttke at 8 pm
Music performance by Jalara ore 8.30 pm

Alexander Rodin photo by Petrov Ahner Kunsthaus Tacheles Berlin
After gaining its space, CAM museum recovers the art revolutionby offering a political/cultural asylum to the Berlin Tacheles, center for art closed up last September by German authorities.
Even Germany, although leading the economic power of Europe is submitted to finance and banking damaging culture.
The CAM museum and its director Antonio Manfredi revolution against the critical situation of cultural spaces in Italy and worldwide keeps going on. CAM museum, first to arrange the protest, keeps on fighting to protect a common value, thus welcoming the appeal of the Tacheles Kunsthaus in Berlin by sustaing and hosting it, offering it asylum in its exhibition spaces. As far as 2011 CAM requested Germany for political/cultural asylum with a letter to Angela Merkel, and now offers itself as place for the "refugee" works of the artists of the Berlin gallery by permanently dedicating them a hall. Tacheles, international center for art managed by artists in the very heart of the german city since 1990 after the Berlin wall fall, hosted the CAM exhibition Maybe and has been definitely forced to close last September by german authorities. In its place a shopping center, thus deleting tens of years of history and cultural vivacity. It is against all this that the art revolution, CAM Art War, arose by involving a big number of international artists and cultural institutions, making the powder keg of the world of art unrest explode. Abandoned by their own institutions and often forced to interrupt their activities due to lack of funds, the places of culture and the employees appeal with sorrow to survival by means of a pacific protest and CAM Art War by offering a political/cultural asylum provides a strong signal of solidarity and another gesture of protest.
The opening

RAI TV_TG3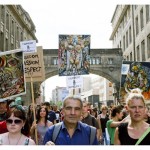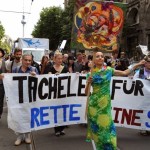 TACHELES CLOSED BY GERMAN AUTHORITIES
http://www.guardian.co.uk/artanddesign/jonathanjonesblog/2012/sep/05/closure-tacheles-berlin-sad-alternative-art
http://www.bbc.co.uk/news/world-europe-19473806
http://www.spiegel.de/international/zeitgeist/berlin-artists-squat-tacheles-is-cleared-after-legal-disputes-a-853868.html
http://www.lemonde.fr/europe/article/2012/09/04/le-tacheles-squat-emblematique-de-berlin-contraint-a-la-fermeture_1755217_3214.html
TURMOIL
http://www.youtube.com/watch?v=oXfN4ZkAeuo&feature=related
THE STORY OF TACHELES
http://en.wikipedia.org/wiki/Kunsthaus_Tacheles
http://www.youtube.com/watch?v=4LEDkAORL3A
CAM MUEUM EXHIBITING IN TACHELES
http://vastano.blogautore.espresso.repubblica.it/2011/05/14/il-cam-a-berlino/
http://www.youtube.com/watch?v=XgVtLOn86LE&feature=related
http://www.lagazettedeberlin.de/6604.html
http://www.neues-deutschland.de/artikel/197868.ehrenwerte-im-exil.html
http://www.repubblica.it/spettacoli-e-cultura/2011/05/03/news/mostra_camorra_berlino-15731345/
TACHELES SUPPORT CAM ART WAR
http://www.youtube.com/watch?v=q7J9wPeYFf4
INSTITUTIONAL POLEMICS
http://www.pdlsenato.it/node/11479
http://www.garavini.eu/wp-content/uploads2/libera_06.05.11.pdf
CAM_Casoria Contemporary Art Museum Via Duca D'Aosta 63/A
80026 Casoria/Naples/Italy Tel/Fax: +39 0817576167
www.casoriacontemporaryartmuseum.com info@casoriacontemporaryartmuseum.com
Press office CAM_Graziella Melania Geraci +39 3349399870 cam.pr@hotmail.it